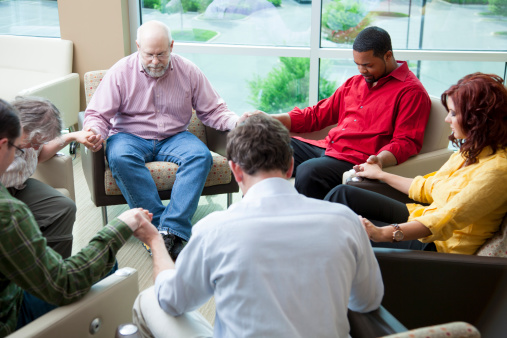 The AFP emblem depicts the world, held in praying hands and raised to the Holy Spirit, which is represented by a Dove descending toward the world.
Anglican
Our roots are within the Anglican Church. As Christians, we believe that a key element that holds us together is prayer--not only in our corporate worship but in prayer throughout the week, wherever we are.
Fellowship
Praying together in fellowship enriches the lives of both the individual and the community of faith. In the 1940s and 1950s, Helen Shoemaker (wife of the Rev. Samuel M. Shoemaker) developed a ministry of group prayer at Calvary Episcopal Church, New York (with the help of Polly Wiley) and continued it when her husband was called to Calvary Episcopal Church, Pittsburgh. Bishop Austin Pardue suggested the name "Anglican Fellowship of Prayer" in 1958 and his friend Bishop Cuthbert Bardsley of England taught at one of the first international conferences. Prayer groups and prayer retreats and conferences are all encouraged by the AFP. We currently have chapters in Canada and in the Caribbean, as well as in the United States.
In 1958 we did not have the Internet to link us with the worldwide communion. Today, we can access the Anglican Cycle of Prayer, with its daily prayers for specific parts of the communion. In addition, we receive prayer requests via our website that are distributed to intercessors throughout the Communion. Another way the internet facilitates prayer is by providing quick access to the Daily Lectionary (Bible readings that can unite Anglicans in their focus for the day). Please see links to these websites on the Associations page.
We would like very much to hear from you about how we can improve our ministry. In addition, we would be very happy to publicize on our national website any prayer teachings your church or diocese is planning.
Prayer
Prayer begins in the heart of God, and it has the power to change the world. This means that prayer is a vital business. However, most Christians, when honest, admit that prayer doesn't always come easily to them, especially at the beginning. It may seem like trying to get to know a stranger. Given the proper time and commitment, our relationship with the Lord of the Universe, as known to us through Jesus Christ, will be closer than any human relationship. God is, as some have said before, as close as your breath. It is our job to help you and your church put prayer first. With that in mind, we invite you to become part of the Anglican Fellowship of Prayer.
AFP US Council and Advisors 2019 - 2023
President: The Rev. Dr. John R. Throop
Corresponding Secretary: Mrs. Celinda C. Scott
Treasurer: Mr. Samuel D. "Barry" Scott
Communications Technology and Young Adult Outreach: Mrs. Paige Grimball
President Emeritus: Dr. William C. Williams
Chairman of Prayer Requests: Mr. Robert Hilton
Past Executive Secretary: Mary Hilton
Board Member: The Rt. Rev. Daniel Martins